We rent soft serve ice cream machines for your event that dispense SOFT SERVE ICE CREAM. We have chocolate and vanilla flavors. Our ICE CREAM is the best around. It is creamy and has a homemade taste.  Our ice cream is also lactose free so that even your lactose intolerant guests can enjoy some!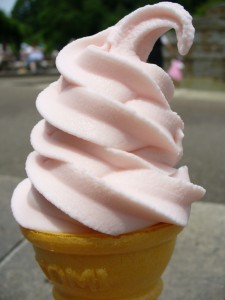 Our Ice Cream Is The Best!
Lick It Don't Drip It only serves the best ice cream and it is always cool. creamy and delicious! Our ice cream is LACTOSE FREE, GLUTEN FREE, VEGAN FRIENDLY & VEGETARIAN FRIENDLY so everyone at your customers, guests at your party or event, employees and wedding guests can all enjoy it.
Available Ice Cream Flavors
Currently, Lick It Don't Drip It offers chocolate and vanilla soft serve ice cream with our ice cream machine flavors available for rent for your party or event.
Bring Ice Cream to Your Next Party, Event, Wedding or Corporate Function with Lick It Don't Drip It Ice Cream Machine and Party Rentals!